Professional couple therapy Cologne for lesbian and gay couples
Homosexual couples face the same questions and conflicts as heterosexual couples. The focus of the consulting process is the relationship as such with its numerous facets. It usually does not require a separate and renewed explanation of the homosexual life world.
Common topics in a gay couples therapy:
Our couple therapists have many years of experience in couple counseling – also for homosexual couples. The following topics have emerged in the course of countless cases of couple therapy as particularly frequent problems for homosexual couples:
Coming-In/Coming-Out – How do we deal with our sexual orientation as a couple or as a person?
Homosexual lifestyle – The beauty of life as a gay or lesbian couple
Acceptance of the environment – Do our families and friends stand by us?
Homosexuality in public – How do we show ourselves in public? How do we want to be perceived?
Open relationship – What speaks against, what speaks for an opening of the relationship?
Sex and relationship – Which form of relationship do we want to live? What does sexuality mean to us?
Commitment – How do we design them? How much commitment do we want?
Desire to have children – What do children mean to us? What possibilities are there for us to fulfill our desire to have children?
Our couple therapists help you as a homosexual couple to find new perspectives. Together you will find a way out of your relationship crisis. A professional couple therapy helps you to create the path to a happy relationship!
Couples counseling: How do we actually want to live our homosexual partnership?
This question is often shaped by experiences in childhood, the family of origin and the respective cultural home.
The process of homosexual self-realization is also influenced by social conditions, growing up in rural or urban areas, and patterns of thinking in the social environment. Some of our gay and lesbian clients report unpleasant negative experiences, which can still have an influence on the concrete everyday life in a relationship.
In our homosexual development we often try to rely on role models to give us orientation:
What distinguishes being gay or lesbian? Do I shape my homosexual partnership the same way others shape their heterosexual relationship?
However, what makes it more difficult for homosexual role models, in contrast to their heterosexual counterparts, is that their psychosexual identity is often not openly apparent in everyday life. Many clients report difficulties with their coming out. Therefore, there are fewer "role patterns" in the gay and lesbian environment, no cross-generational traditions that could serve as orientation.
Lesbian and gay couples are thus even more faced with the task of defining their relationship individually and in its value. Contrary to outdated prejudices, the homosexual couple relationship can by no means be simply categorized. It is just as multifaceted in its interplay of love, affection and partnership.
Help through a couple counseling or a couple therapy
When is couple therapy useful?
A happy, functioning partnership is a valuable resource in our lives. It can serve as a safe anchor for us in overcoming crises and strengthening our well-being and sense of perfection. A fulfilling partnership consists of two partners who can rely on their own relationship skills. Sometimes, however, conflicts arise that can become so intense that the couple is unable to break the cycle of behavior on their own.
Couples Therapy Cologne: Examples of such conflicts
constant dispute
different values
Partnership vs. individuality: how can I get involved in my partnership and at the same time develop my own personality?
Jealousy
sexual or emotional infidelity
Loss of confidence
what are my relationship patterns? How do our relationship patterns differ? What does this mean for our mutual understanding?
Communication problems
Needs and wishes are no longer addressed and no longer fulfilled
Identity problems: What do I actually expect from my relationship?
Proximity-distance problems: what to do if one of us demands more mutual independence?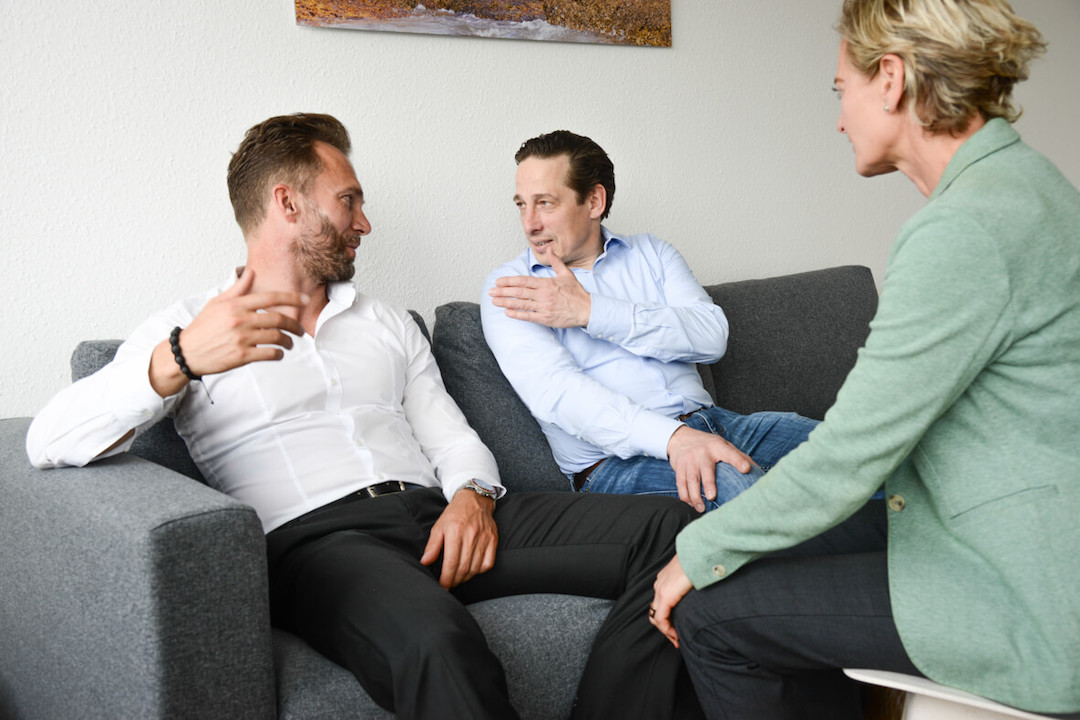 Costs for a couple therapy
Unfortunately, no costs for couple counseling or couple therapy are covered by health insurance companies.
Couples therapy costs 160€ per session of 90 minutes for an initial consultation of 1.5 hours and 180€ for follow-up consultations (plus VAT).
The duration of a couple therapy varies from individual to individual – on average, fruitful results can be seen after just a few sessions. Our couple consultants will clarify your concerns, your wishes and your ideas with you. Please feel free to make an appointment for an initial consultation at our MVZ für Psychotherapie GmbH Odendahl & Kollegen in Cologne's Südstadt!